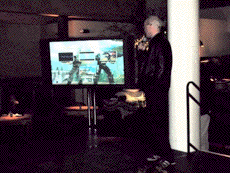 :: Video ::  HALO: The Movie Trailer #1
Halo fans everywhere have been treated to two new fan films made by Brian Josselyn of BLACKSTAR PRODUCTIONS. Fan clubs, as well as Microsoft and Bungie employees have praised both videos. On Wednesday April 10th a DVD with the HALO: The Movie trailer and several other fan videos were shown at a party in San Francisco celebrating the 1 million copies sold of the XBOX video game. Read some more quotes posted by people who have seen the trailers:
"An outstanding account of what will be last years best console game." - Halo Times
"One of the best Halo vids out there!" - Louis Wu of halo.bungie.org
"Very nice. Want a job at MS marketing? ;) " - Dave Candland Bungie Studios
"Ooooh!" - Cybrfrk
Others from the halo.bungie.org forums had this to say:
"LOL! I have to say it's the best thing I've seen since the Warthog Jump movie."
"Brian, it is very inspired! Very good job!"
"Now, you've got me thinking about how many other trailers we could bend to our evil will. I have to say, the Final Fantasy trailer had many PERFECT lines." "Very Well Done!"
"Great trailer...I would go see it!"
"I loved this small teaser too hehe very good footage is shown and very professionally done."
"Excellent Job. Absolutely brilliant."
"2 thumbs up! Way up!"
"This would certainly make me wanna see it... :)"
"It was funny, it was serious, it was scary, it was breathtaking."
"Wow."
"Tight as all hell."
"This Movie is Seven Different Kinds of Awesome!"
Thanks so much to everyone for the kind words; it means a lot to me. - Blackstar